2nd BCC Leadership Academy
11/06/2020 - 09/07/2020
09:00 - 13:00
Registration at 08:45
British Chamber of Commerce
Václavské náměstí 19, Prague
Description
2nd BCC Leadership Academy with MgC Group
The British Chamber of Commerce in the Czech Republic and MgC Group, are announcing 2nd BCC Leadership Academy.
Became a real leader and understand, how to create an effective team, how to become valuable manager who is able to lead teams and meetings. Learn about mentoring and coaching methods & get to know how to work with stress, burn out syndrome and conflicts.
Length: 4 hours (with one break)
Group size: 8 – 12 participants
Language used: all materials will be in English. The discussions may be in Czech depending on the mix of participants.
Roster of the workshops:
Session 1: Coaching and mentoring

What is coaching, mentoring – difference
Mentoring types, when each type should be used
Who is coach, mentor, manager and leader
The character of leader and leadership
Rules of coaching and mentoring interview
GROW, SMART/ER method
Coaching questions
SWOT analysis with connection to "my leadership" – I leader (what are my strengths, weaknesses also opportunities and threats in connection to my leadership, what shall I be aware of)
Psyché (process of change, mind area, how brain works, Maslow hierarchy of needs)

June 11, 2020
Session 2: Presentation skills

Non-verbal communication
How to assemble presentation (methods, tips, what yes and no during presentation)
How presentation shall start and be closed
Rules for presenter
Work with stress
Work with voice, body and stage-fright during presentation
Own motivation and motivation of team

June 18, 2020
Session 3: Communication and conflicts

Difference of assertiveness, kind communication and argumentation
Conflict (each phases of conflict, how to deal with it, emotion in conflict)
Listening
Information transfer
Nonverbal communication
Work with character profile within team (HBDI method – brain scan, who am I, who are you)
Stress, burn out syndrome

June 25, 2020
Session 4: Feedback and appraisal

Leadership styles
Team roles
When, who and how to provide with feedback
Appraisal interview rules
Rules for giving and receiving feedback
Structure of feedback
Positive vs. negative feedback
Setting of team´s KPI
Delegation and rules for delegation
Selecting a suitable candidate for task delegation
Stages of team development (how to build a team, what stages of a team are, what leadership methods are used in each stage)

July 2, 2020
Session 5: Leading of meetings

Preparation of the meeting agenda
Preparation before the meeting (objective of the meeting, people, preparation, role of the meeting leader, outcome of the meeting)
Rules during the meeting
Long distance meeting / remote management
Time management
Roles of participants and meeting leaders
Work with "disobedient" participants
Procrastination
Effective argumentation, assertive methods during meetings
Causes of conflicts during meetings (misunderstandings and their resolution)
Listening and questioning

July 9, 2020
Should you be interested for more details, contact us at jan.elger@britcham.cz or visit www.britishchamber.cz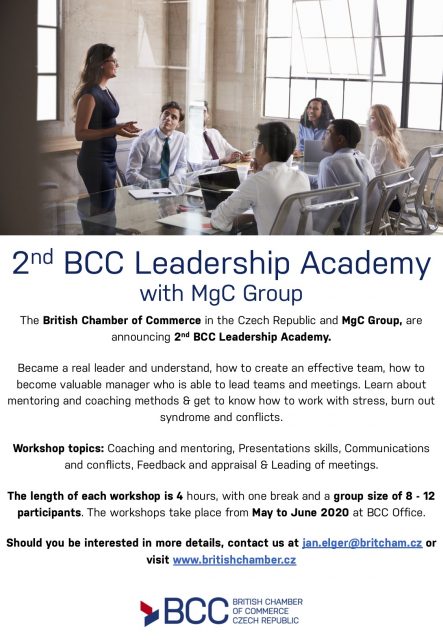 Attendance fee
Bookings are closed for this event.
Please note that your registration is binding. Cancellation is not possible.
Please be advised that photographs might be taken at the event for use on the BCC website, BCC marketing materials, and other publications. By entering this event, you consent to the photographing and using your image and likeness.