Dear partners!
We would like to inform you about a new project of the Salvation Army. We decided to provide a specially adjusted car for the field-work with homeless people.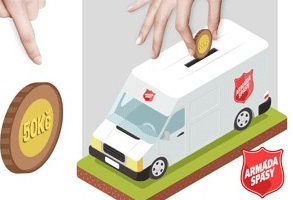 It is very common to meet people in very bad health conditions at our field-work. That is why we provide them the basic medical help, not only food, sanitary utilities and clothes. The health conditions of the most of these people demand medical help right on the spot where we meet them, cliens are not often able to arrive to a medical centre. Especially in the winter period there are more cases that need medical care, mostly with perniosis, but also with ambustion.
The car will help us to bring the help right to the spot (clothes, warm food, sanitary utilities), but will also serve as a mobile ambulance and an office, moreover it can serve as the transportation of clients if needed. Thus our help will be more efficient and of a better quality, it will help to reduce the impact of homelessness to the society and will prevent a deeper social fall of the people without shelter.
If you would like to participate as a partner in providing of this car, please contact Miss Maroušková –  lucie_marouskova@salvationarmy.org, 734 851 699.
More information at www.armadaspasy.cz/sosauto